Providing the flexibility for you and your guests to have quick visits, powder rooms may be small in size, but their first impressions last a lifetime.
Although this space may sound irrelevant due to the traditional origin of its name, a powder room primarily consists of a toilet and basin, and as such, plays an important role when it comes to the practicality of everyday living and hosting.
While you may already have your eye on a particular powder room design for your renovation, it's first important to know exactly how much space you have to play with, before finalising your design.
So, to assist you in creating the perfect powder room for your lifestyle, we'll take you through the six key elements:
+ colour
+ sink and vanity
+ toilet
+ lighting
+ mirror
+ décor
+ colour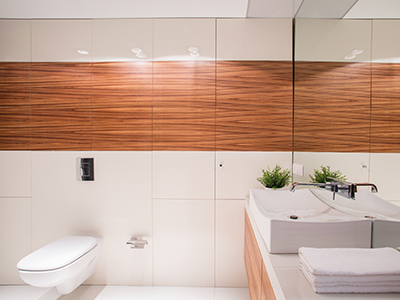 Powder rooms provide the perfect opportunity for you to have fun with colours and textures that compliment but are not necessarily featured in the other living areas of your home.
Think white or neutral colour palettes mixed with a feature wallpaper or tile, coloured tapware and textured materials, such as stone and timber.
+ sink and vanity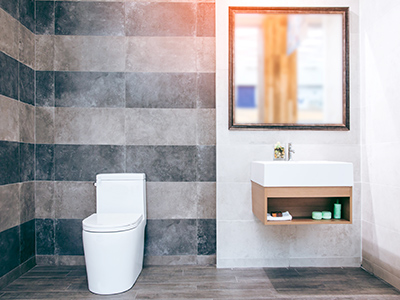 A minimalistic wall hung sink and vanity are the perfect pair for powder rooms. If space is tight, then select a wall hung sink in a streamlined design and consider incorporating a niche alongside it.
+ toilet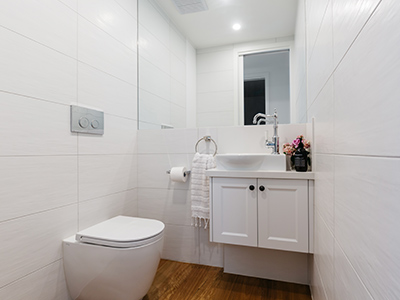 Maintaining a minimalist approach, both behind-the-wall and rimless toilet designs are ideal for powder rooms.
+ lighting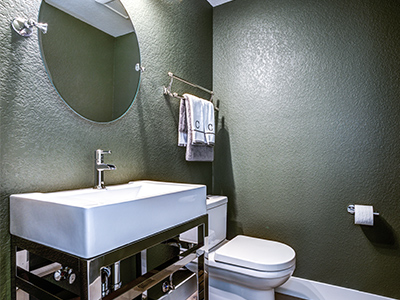 While natural light provides an uplifting sense of space, a feature light complemented with low lighting oozes traditional luxury.
So, when it comes to selecting the lighting for your powder room, continue to be led by the feeling you want to create within the space.
+ decor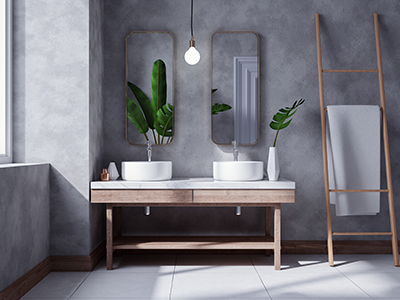 Complete your powder room with the invaluable impact of a personal touch, through the addition of simple yet stylish décor items such as a candle, plant, soft textured handtowels and jewellery dishes.
At MW Homes, our team will discuss your powder room design preferences with you, in addition to providing some new ideas based on our extensive experience. We'll then work together to finalise and create the perfect powder room for your lifestyle.
Find out more about our Melbourne bathroom renovations here.
Not sure where to start when planning your bathroom renovation? Find out more about the six key bathroom renovating elements: colour, bath, shower, vanity, light, fixtures and fittings, read our Bathroom Renovating 101 Guide.
For inspiration and ideas take a look at our Bathroom Renovation Gallery.
Email: [email protected]
Office :  Suite 510, 737 Burwood Road
Hawthorn East 3123
(By Appointment)
Mail: PO BOX 449, Canterbury, VIC 3126
AWARD WINNING RENOVATIONS