Take a look at the video walkthrough!
The definition of luxury, this stunning Versace ensuite renovation in Melbourne's Docklands instantly draws you in to indulge all eight senses.
As we prepare to transition from one decade to the next, here's how we redefined the meaning of opulent bathrooms.
+ the foundation
Starting with a blank canvas, our client simply wanted to create a luxurious and practical space to enjoy. So, to set the tone we selected Calacatta Michelangelo marble sheets for the walls and Palace range Versace tiles for the floors, which were imported directly from Italy. Like high fashion clothing, the pattern and colours of the stone walls and floor tiles instantly capture your attention, however, it's only when you experience it in person can you truly admire the quality, natural patterns and craftmanship of these exquisite elements.
+ bath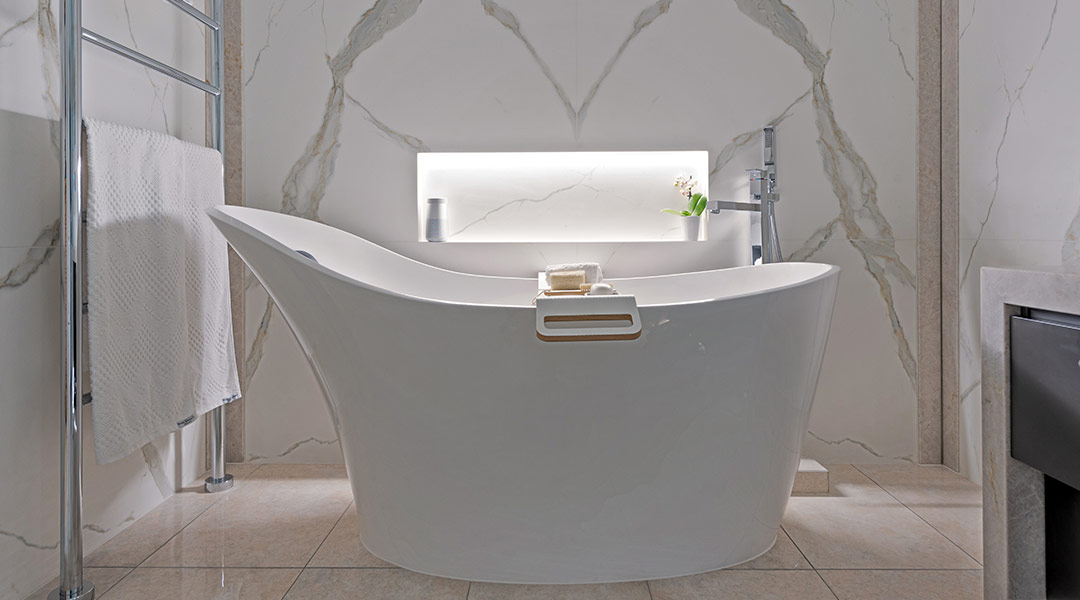 Building on the opulence of the Versace foundation, the Victoria + Albert Amalfi Deluxe freestanding bath we selected for this project makes a design statement within itself. Aside from its contemporary, yet timeless visual design, the technical elements, such as the softly contoured sides and extended backrest, means you don't need to compromise your posture in order to enjoy long luscious soaks.
To further encourage a feeling of luxe relaxation, we also added the following elements:
– Victoria & Albert Tombolo Bath Caddy in White – featuring integrated glass holders and flat surfaces which are perfect for a glass of your favourite beverage, food platter and reading items.
– Seamlessly integrated niche with LED strip lighting – taking the mood of the space to the next level, while also being a practical design element that allows you to store any additional items.
– Hydrotherm floor to ceiling heated ladder – facilitating a smooth transition from the warmth of the bath to the comfort of an evenly dried and undeniably soft towel, sometimes it's what some may view as the little things that make all the difference. A symbol of superior luxury, on cool days our Hydrotherm heated ladder also adds warmth to the bathroom, to provide the perfect atmosphere all year round.
+ the vanity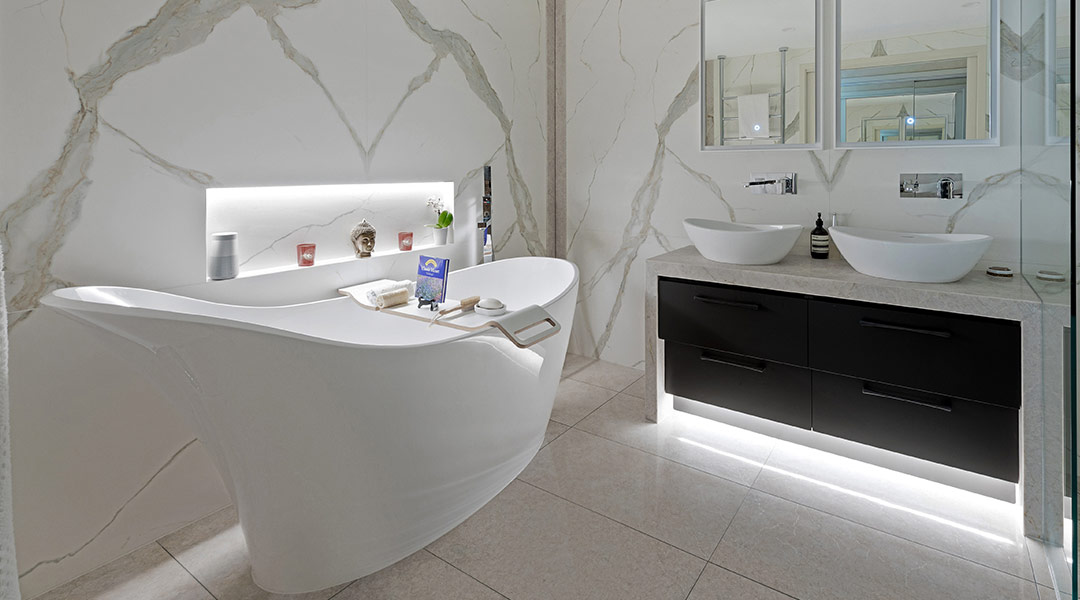 In order to create a bathroom that redefines the meaning of luxury, it's important that it also has its own signature style. So, to complement the other elements of the room, we arranged for custom-made wall mounted vanities with exclusive Champagne Quartzile top to be created, each of which incorporated:
To further encourage a feeling of luxe relaxation, we also added the following elements:
 – Arcisan Kudos Backlit recessed mirrors – allowing our client and guests to enjoy the perfectly even light produced by touch activated LED lights and demister and low electricity usage. Designed with high quality float glass and 100% silvering, our client can also have peace of mind that they are completely protected against moisture penetration.
 – Gessi Rettangolo Wall Basin Mixers with spout – staying true to their Italian design heritage, these items perfectly balance creativity, functionality and minimalistic opulence.
 – Amalfi freestanding rimless countertop basins in White – continuing the luxurious fluidity of the bath's design.
 – Champagne Quartzile top with waterfall edges – when it comes to luxury, nothing says it better than exclusive stone. Quarried only in Brazil, the benchtop was custom made.
 – Wall mounted double vanity – featuring Polytech laminate in Cinder Matt – custom made for the perfect fit.
 – Artia Verde Vintage Bronze handles – these extend on the lavish simplicity that defines the room.LED strip lighting – enhancing the feeling of the space.
+ the shower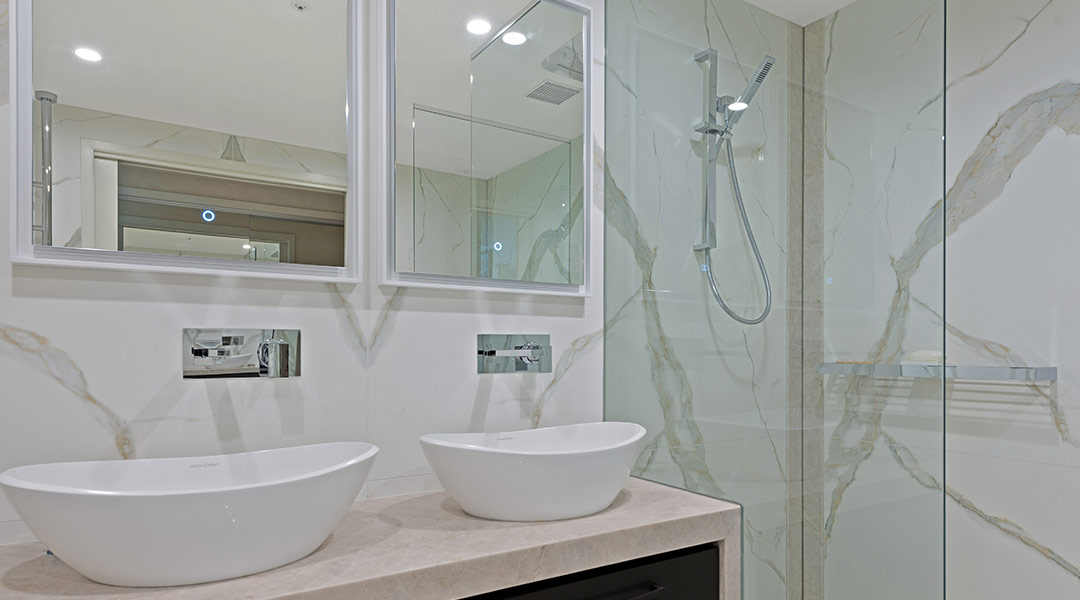 Seamlessly integrated into the bathroom design, the addition of the frameless shower means our client has the best of both bathing worlds. However, don't let its modest yet sleek design fool you, as it integrates the latest technology for a fully personalised showering experience. These elements include:
Synergii stainless steel multi-function LED showerhead:
– Setting the perfect ambiance, you can select from one or a combination of rain, mist or soft water patterns
– The LED lights are also fully customisable, as you can select from one of eight colours and 11 modes via a glass fronted touch sensitive remote
Find out more about our quality bathroom renovations here.
It was an absolute honour for our team to project manage every aspect of this breathtaking ensuite, in addition to the main bathroom and laundry, and we couldn't think of a better way to end the year…or decade! To truly celebrate the beauty and innovation of this luxurious bathroom we have also created a video so you can take a tour of the space.
We were also thrilled to receive a five-star Word of Mouth rating from our client, in which they said:
"Our project was at the upper end of cost and quality. Having had several previous 'builders from hell' on other building projects it was very important for us to have a level of communication and mutual respect to achieve the result we were looking for. The MW Homes team were friendly and very involved in the project… We have and will recommend this company to family and friends. Well done all at MW Homes".
From the photos, video tour and our client's testimonial, you will notice that our sharp eye for detail and design ensured nothing was overlooked in creating bathrooms that have redefined the meaning of luxury in Australian interior design.
Email: [email protected]
Office :  Suite 510, 737 Burwood Road
Hawthorn East 3123
(By Appointment)
Mail: PO BOX 449, Canterbury, VIC 3126
AWARD WINNING RENOVATIONS