Harmoniously tying together open plan living, smooth design profiles, natural textures and an abundance of natural light, this stunning family home in Melbourne's South Eastern suburb of Caulfield South is contemporary design at its finest.
A space that originally mixed contemporary, modern and traditional design, our client purchased the property with the vision of completing a full home renovation to create a welcoming family home that featured luxurious fixtures and fittings with natural materials.
Turning our client's dream into a reality, here's how we created a contemporary family haven.
+ the foundation
Halving the colour palette to two, the simplicity of white and light grey seamlessly ties in with the timber tones to encapsulate the understated elegance of contemporary living. The products we selected to create the perfect foundation within this contemporary family home were:  
Ceiling – Flat White
Walls – Dulux Whisper White
Doors & trims – Dulux Lexicon (¼ strength)
Floors – Quickstep Majestic in Woodland Oak Brown (extra wide and long laminate planks)
+ the kitchen

Restoring balance while redefining contemporary living within the heart of the home, the minimalistic and elegant design profiles within this kitchen take your breath away, while they also cater for all the practical requirements of a busy family lifestyle.
From breakfast to entertaining and everything in-between, here's what we used to create this chic contemporary kitchen:
Cabinets – Polytec Legato in Bespoke, featuring Tekform matt black handles
Feature overhead cabinets – Polytec Legato in Woodmatt Prime Oak
Island cabinets – Polytec Venette in Cinder
Benchtop and splashback – Caesarstone in Bianco Drift
Sink: Oliveri Spectra Double Sink in Copper, featuring ABI Elysian brushed copper gooseneck tap
– Oven, steam oven, warming draw and dishwasher – Miele
– Rangehood – Qasair
– Cooktop – Fisher & Paykel
Lighting – LED strip and black teardrop pendants

+ the main bathroom

The simplistic colour palette, streamlined design profiles and exquisite textures that are signature to this family home have all been tied together to create this relaxing, yet practical space. Key elements to create this contemporary bathroom include:
Tiles – Beaumont Tiles' Quartzi (marble) 600 x 600 in Light Grey Textured
Shower – full walk-in
Bath – freestanding
Shaving cabinet – recessed
Vanity – Polytec Legato in Woodmatt Prime Oak
Basin and mixer – Round ceramic countertop
Benchtop – Caesarstone in Organic White
Lighting – Matt black vanity wall
+ the laundry

Capturing the abundance of natural light while allowing a seamless transition into the other areas of this stylish contemporary home, the key elements within the laundry include:  
Overhead cabinets – Polytec Legato in Woodmatt Prime Oak
Splashback – Atmosphere 58 x 242 tiles in Mint Gloss
Cabinetry – Polytec Legato in Bespoke, featuring Tekform matt black handles
Benchtop – Caesarstone in Organic White
Bowl – Oliveri single undermount – stainless steel
Mixer – Oliveri right angled mixer tap – stainless steel
+ the ensuite

Transforming traditional to contemporary, this gorgeous ensuite takes its cue from the timeless contemporary design elements throughout the home to create a luxurious and peaceful space for our client to relax and unwind. Combining style, practicality and warmth, feature items within this space include:
Tiles – Beaumont Tiles' Quartzi (marble) 600 x 600 in Light Grey Textured
Shower – Full walk-in
Vanity – Polytec Legato in Woodmatt Prime Oak
Benchtop – Caesarstone in Organic White
Basins and mixers – Round ceramic countertop
Mirrors – round
Lighting – Matt black vanity wall

+ the walk-in robe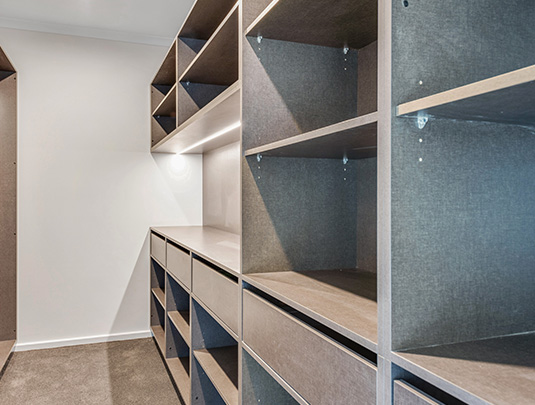 The timeless design of these Laminex cabinets in Bliss Cinder perfectly frame items to display, hand or store within this contemporary styled walk-in robe.
It was an absolute honour for our team to make our client's dream a reality, as we project managed every aspect of the renovation to create this breathtaking family home. To truly celebrate the essence of this exquisite contemporary space we have also created a video so you can walk through it with us.
We were also thrilled to receive a five-star Word of Mouth rating from our client, in which she said "I want to say a huge thank you to MW Home for my beautiful fully renovated new home in Caulfield South!!! Renovating a 5 bedroom 1980th house can be stressful, but MW Homes just made it easy and stress less for us. Mark, Victoria, Chris, Glenn… everyone from MW Homes team was so easy to deal with from the beginning to the end during the whole process. Mark was being very helpful with our selections and kept them on a reasonable budget. Chris, our site manager was always responsive with any of our questions or requests and did an amazing job to keep the site tidy and organised!!! All the trades were polite and courteous and kept to schedule."
They also helped us to fix some tiny things here and there (windows, fly screens…), making the house completely ready and tidy for us to move in straight away! Our project was finished on time, on budget and we are delighted with the end result, I absolutely would 100% recommend MW Homes for your renovation project."
From the photos, video tour and our client's testimonial, you will notice that our sharp eye for detail and design ensured nothing was overlooked in creating a masterpiece in contemporary design that easily adapts to the everyday demands of family living.
Email: [email protected]
Office :  Suite 510, 737 Burwood Road
Hawthorn East 3123
(By Appointment)
Mail: PO BOX 449, Canterbury, VIC 3126
AWARD WINNING RENOVATIONS