From cooking to entertaining and everything in-between, with so many roles to play it's easy to understand why so many refer to the kitchen as the heart of the home, and as such put a large amount of their renovating budget towards this space.
While you may already have your eye on a particular design for your kitchen renovation, it's important to know exactly how much space you have to play with, in addition to any structural considerations you need to keep in mind, before finalising your design.
So, to assist you in creating the perfect kitchen for your lifestyle, we'll take you through the five essential elements for designing a kitchen that lasts the test of time:
+ flow
+ colour
+ texture
+ islands
+ appliances
+ flow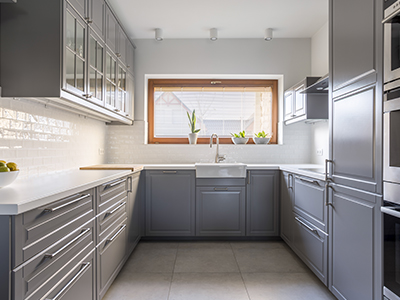 Creating a kitchen that seamlessly ties into the rest of your home, while also easily accommodating the natural transition of tasks within the one space all comes down to your design layout. First consider where you'd like the sink, cook top and refrigerator to be
placed and then draw lines between these three points. For an efficient and timeless kitchen layout the lines between these items should form a triangle, which we often refer to as the 'working triangle'. Now imagine yourself in your new kitchen (or stand in the space and start walking around) and make note of your natural flow in the space as you go to do different tasks, as this will guide where the other items in your kitchen should be placed.
Of course, if you are planning a single wall kitchen then rather than a working triangle you want to aim to have your sink, cook top and refrigerator close enough together that they still facilitate a natural flow between tasks.
+ colour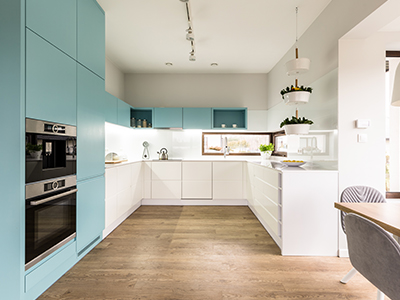 While a neutral colour palette is traditionally timeless, complementing this with a statement colour is just as appealing. From soft pastels to bold navys and greens, take your colour cue from your decorating style and consider whether you'd like to make a feature out of it, or subtly incorporate it within your space. If you decide to incorporate dark colours within your space, be mindful to balance these with an abundance of natural light and textures.
Popular ways to introduce a statement colour within your kitchen design include wall tiles, cabinetry, tapware, light fittings and décor.
+ texture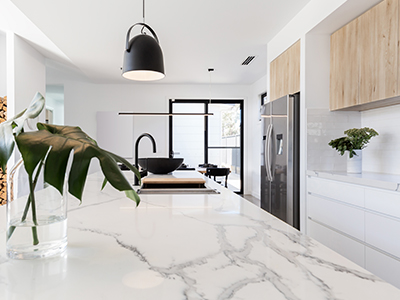 Instantly adding warmth, character and style, the balance of texture in your kitchen design plays a key role in the overall look and feel. Take your textural cues from your chosen decorating style and consider incorporating them within the following elements:
+ benchtops – while light to medium coloured timber, marble and stone designs continue to be the most popular choices, dark marble and stone with statement veins are starting to trend and are ideal for a standalone textural feature, or for those with a traditional decorating style.
+ splashbacks – tiles or stone
+ floors – neutral timbers and large format tiles with grey textures continue to trend, however don't underestimate the chic impact of terrazzo.
+ cabinetry handles – fluid designs in timber, brass, rattan and leather
+tapware – black, white, metallics and brushed metals
+ islands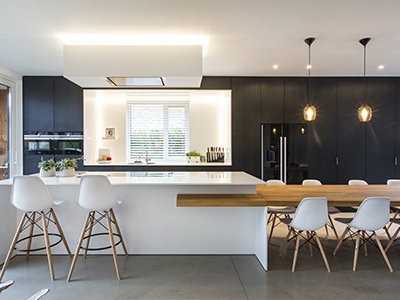 Creating a statement within your kitchen design, large islands easily facilitate the smooth flow of meal preparation, just as much as they do dining, entertaining and all the things in-between. Three design elements to incorporate within your kitchen island include:
+ clever storage – maximising the use of the space
+ overhang – to accommodate seating
+ structural feature – waterfall end, curved stone edges or unique angles and timber legs are all fantastic ways to incorporate character and style
+ appliances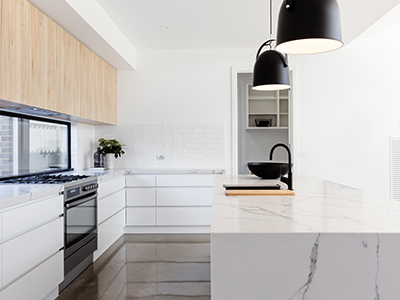 While hiding appliances for a streamlined look and feel continues to be a popular design choice, some kitchen appliances, such as a freestanding oven or a coloured mixer or kettle/coffee machine, can also work well as design features within your space.
Be guided by your decorating style when it comes to considering the appliances you would like to display.
At MW Homes, our team will discuss your kitchen renovation design design preferences with you, in addition to providing some new ideas based on our extensive renovating experience. We'll then work together to finalise and create the perfect kitchen for you and your family.
Find out more about our Quality Kitchen Renovations here.
Email: [email protected]
Office :  Suite 510, 737 Burwood Road
Hawthorn East 3123
(By Appointment)
Mail: PO BOX 449, Canterbury, VIC 3126
AWARD WINNING RENOVATIONS