Take a look at the video walkthrough!
Redefining elegance of the past with a splash of contemporary design, this stunning Victorian styled bathroom in Melbourne's bayside suburb of Sandringham instantly makes you feel at home from the moment you step inside.
The warm, inviting and timeless essence of Victorian decorating is easily adaptable to every lifestyle, which may just be why Australian's are falling in love with this traditional decorating style all over again.
Here's how we combined the best of both worlds, to create this exquisite Victorian styled bathroom that draws you in with a glance
+ the foundation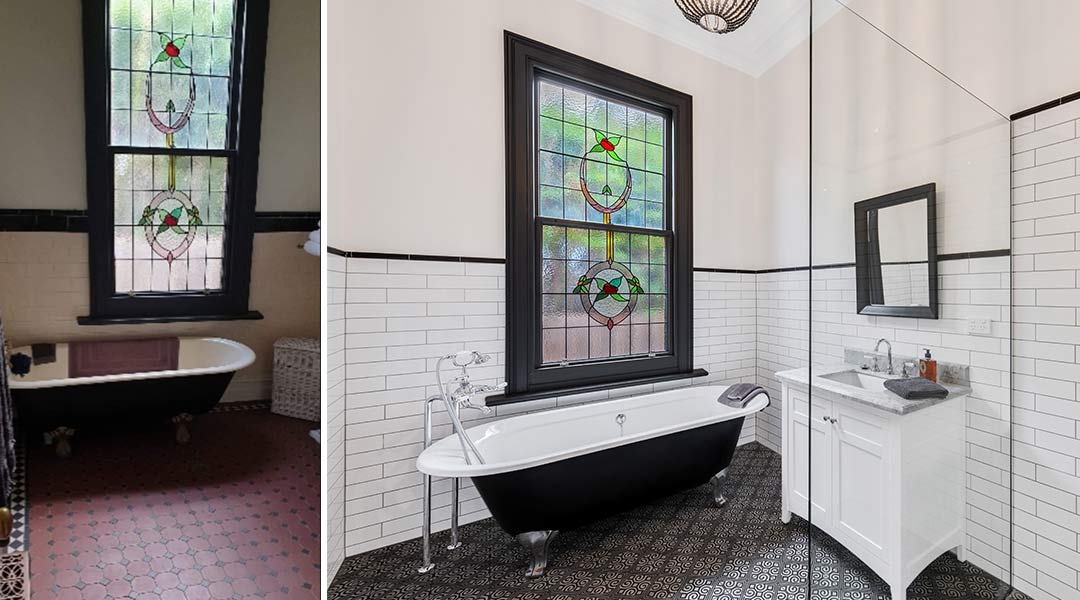 Allowing the original stain glass window to take centre stage, we introduced a monochrome colour palette to give this bathroom a contemporary twist, while staying true to the home's Victorian heritage. The key elements that enabled us to achieve this include:
– White subway wall tiles: more streamlined in design than the existing cream wall tiles, we also increased the height and overall ratio of wall tiles vs plaster
– Black capping wall tiles: thinner than the original border to enhance the room's signature contemporary refinement
– Encaustic floor tiles – Taza Black and White: replacing the original terracotta and border floor tiles, these have come from Spain and are an instrinsic element of the Victorian architectural aesthetic, while also perfectly complementing the contemporary elements
+ the bath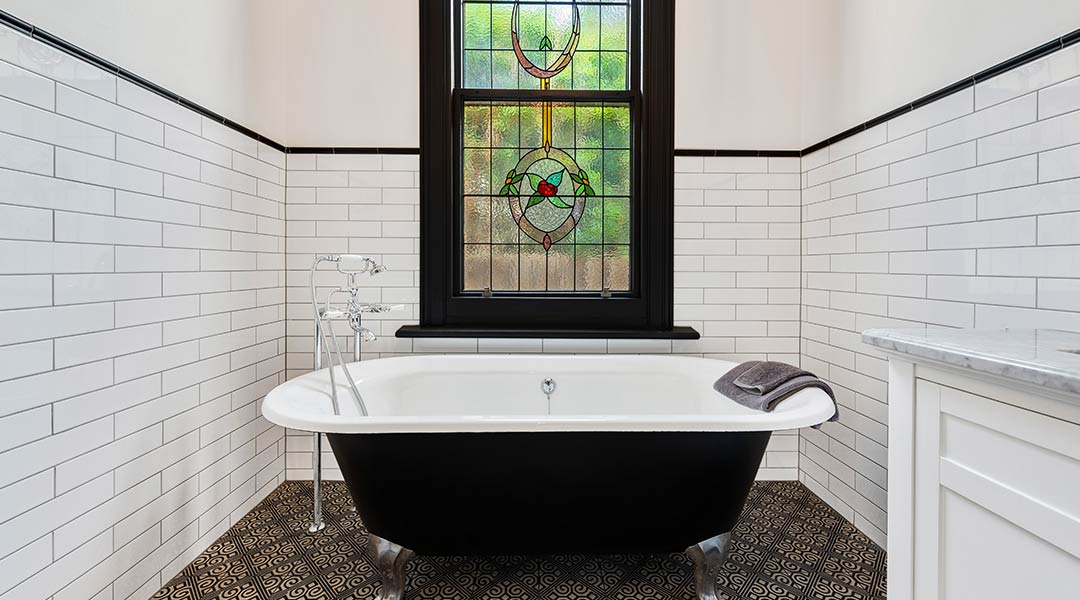 This luxurious freestanding Avon Cast Iron Bath with aluminium claw feet perfectly complements the stain glass window and Schots black pendant light to create a feature space within the room. While the design is an essential element of the Victorian era, the following features make it perfect for modern living:
– Durable porcelain finish for easy cleaning
– Cast iron material maintains heat for long luscious soaks
– Olde English Standing Chrome Bath Mixer w/Hand Shower and white porcelain lever handles reiterate the design's heritage
+ the vanity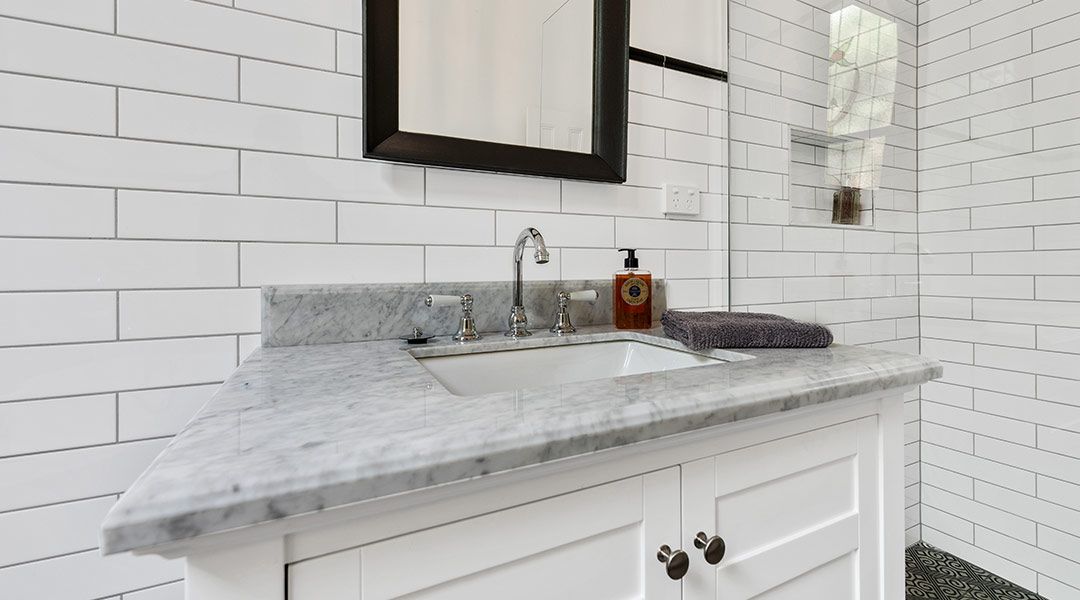 Creating a harmonious flow with the other Victorian elements, the understated elegance of this Shake Style Single Vanity also ties in perfectly with the contemporary wall tiles and featuring the following components:
– White moisture resistant timber frame
– Polished and sealed Granite top
– Granite splashback
– Astra Walker chrome basin set with white porcelain lever handles
– Rectangular basins with overflow protection
– Soft close timber draws with dove tail construction
– Soft close doors
– Generous storage
Adding to the understated elegance of the room, the black framed mirror adds the finishing touch to the vanity area, while also creating a sense of space.
+ the shower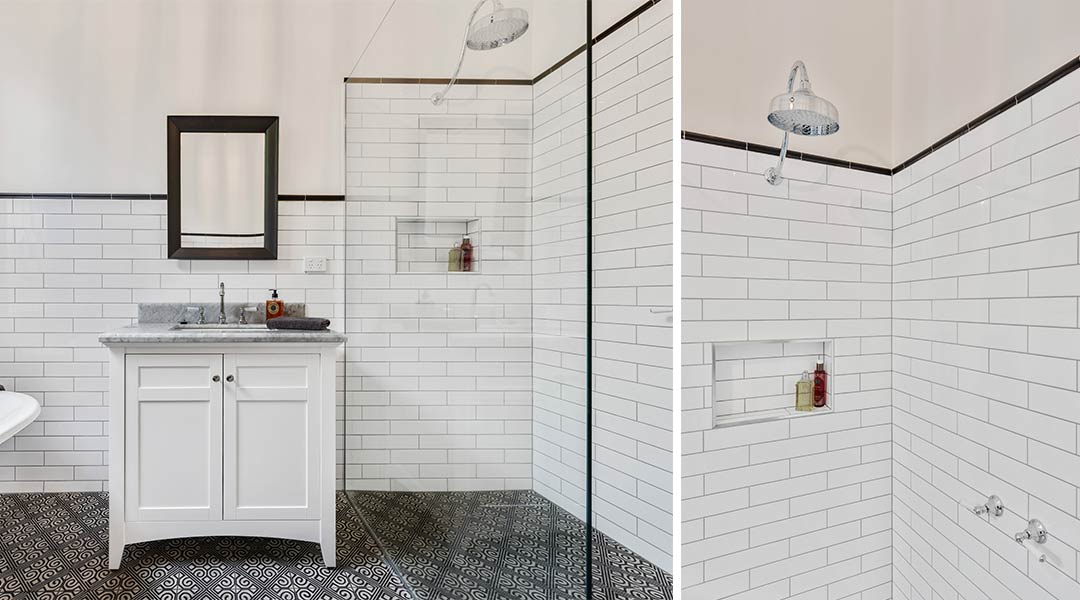 The refined elegance of the frameless shower design, perfectly balances contemporary and traditional decorating. Like the other fixtures and fittings, the Astra Walker chrome showerhead and white porcelain lever handles pay homage to the Victorian era, while the framed niche brings contemporary design and practicality to the area.
It was an absolute privilege for our team to project manage every aspect of this breathtaking bathroom as we turned our client's dream into a reality. To truly celebrate the exquisite craftmanship and quality of this luxurious Victorian bathroom we have also created a video to give you a tour of the space.
Soon after completing this project we were thrilled to receive a five-star Word of Mouth rating from our client, in which she said "When looking for someone to renovate my bathroom, I took a leap of faith and rather than get quotes from various companies, relied only on one very positive recommendation from a friend.
Delighted to say that Mark and his team lived up to and exceeded all expectations. What a slick operation! The seamless organisation, expertise and attention to detail were outstanding, and I now have the bathroom of my dreams.
The team. without exception, were a pleasure to have around, and I would warmly recommend MW Homes for any renovation project.".
From the photos, video tour and our client's testimonial, you will notice that our sharp eye for detail and design ensured nothing was overlooked in creating a bathroom that is the epitome of Victorian decorating in the modern world.
Email: [email protected]
Office :  Suite 510, 737 Burwood Road
Hawthorn East 3123
(By Appointment)
Mail: PO BOX 449, Canterbury, VIC 3126
AWARD WINNING RENOVATIONS