Drawing inspiration from the sand, sky and sea of your favourite coastal town, this refreshing and relaxing style breathes summer into your day all year long.
So, when it comes to coastal bathroom design, there are six key elements: colour, bath, shower, vanity, light, fixtures and fittings.
+ colour
While whites and blues are sonorous to coastal themes, this design is more about taking its colour palette from your favourite coastal escape, whether that be the Amalfi Coast, Byron Bay or anything in-between.
If you are unsure where to start, we recommend selecting pale neutrals that pay tribute to your beloved beachside haven.
+ bath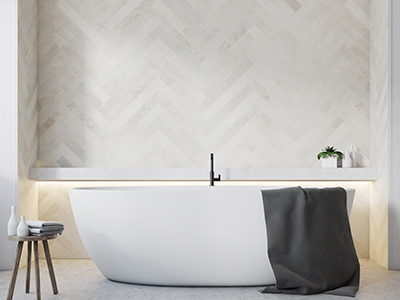 It's not so much the style of bath, as opposed to having one that you can sit back and relax in that is key to coastal decorating.
If space allows, a freestanding stone bath is a popular choice, it's minimalistic design enables the material and function to shine, as it summons the rawness of coastal cliffs and relaxation of a soft sea breeze.
+ shower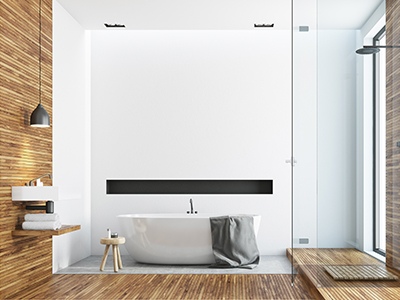 Coastal decorating is all about easy living. So, when it comes to your shower, a fixed door and fixed waterfall showerhead are essential design elements, as they allow you to seamlessly transition in and out of the space.
+ vanity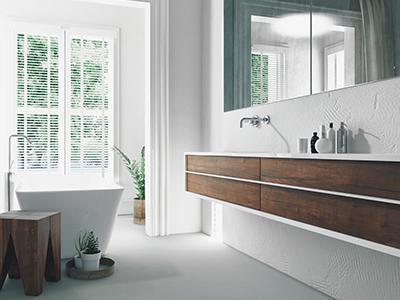 Wall mounted vanities made from natural and up-cycled materials are ideal for coastal decorating, just ensure you allow your chosen coastal escape to dictate the textures you select.
+ light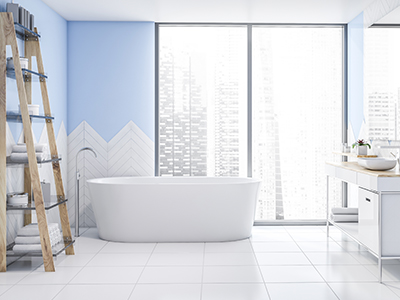 Natural light reigns supreme when it comes to coastal decorating, so it's important to first look at ways in which you can maximise this in your space. Adding skylight/s or/and window/s may sound a little daunting, but they can make the world of difference when it comes to achieving your seaside dream, while also minimising electricity costs.
Textured pendant lights, whether that be metal, rattan, timber or something in-between, add the finishing touch to coastal bathrooms. However, at night they are not always practical as the sole lighting source, so depending on your requirements, downlights and/or task lighting (above the mirrors) may need to be subtly added in.
+ fixtures and fittings
While there's no limitations on the metal or colour you select for your fixtures and fittings, a matte or brushed finished is essential to creating a carefree environment that is the signature of coastal living.
At MW Homes, the renovation experts, we're dedicated to creating the perfect space for your lifestyle. Our team will discuss your coastal decorating and design preferences with you, in addition to providing some new ideas based on our extensive renovating experience.
If you're thinking about renovating a bathroom, kitchen, laundry or a complete home renovation anywhere in Melbourne, we'd love to help you. Contact us today and let us turn your dream into a reality.
Email: [email protected]
Office :  Suite 510, 737 Burwood Road
Hawthorn East 3123
(By Appointment)
Mail: PO BOX 449, Canterbury, VIC 3126
AWARD WINNING RENOVATIONS