A calming space full of warmth, as you step inside a country bathroom the mix of textures, patterns, fresh blooms and eras instantly make you take a deep relaxing breathe.
So, when it comes to country bathroom design, especially with bathroom makeovers in Melbourne there are six key elements: colour, bath, shower, vanity, light, fixtures and fittings.
+ colour
When designing your country bathroom, stick to a soft neutral colour palette of whites and creams. If you'd like to introduce a colour, washed sage, dusty blue, buttermilk yellow and mint are all great choices.
+ bath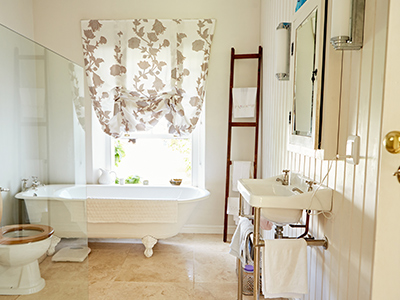 If space allows, the hero of your country bathroom design should be a freestanding claw foot bath, preferably upcycled. While white or white with a black exterior remain the most popular colour choices, if you've used a soft colour accent in your room then you can also match this to the exterior of your bath for effortless cohesion.
+ shower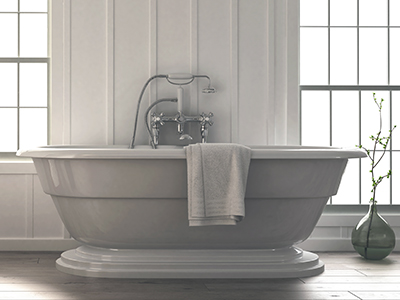 Integrating your shower into your bath with a hand-held shower head or fixed waterfall showerhead over your bath is the perfect throwback to easy country style. Alternatively, a dedicated shower space (ideally with no frame) and a fixed waterfall showerhead is also classically country.
+ vanity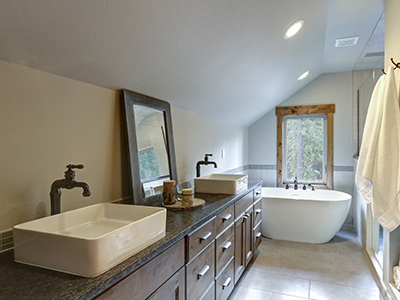 Upcycled pedestal or semi-pedestal designed vanities featuring enamel sinks, timber and metal textures, are key elements of country bathroom design. Alternatively, re-purpose timber benches with above counter basins are just as alluring to the country lifestyle.
+ light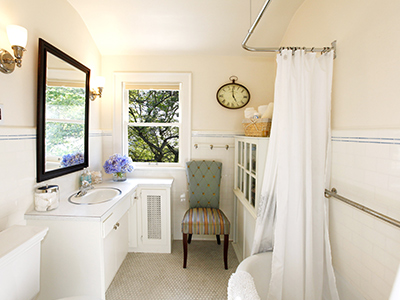 When creating a country bathroom, take your lighting cue from nature, as the sun's natural movement should dictate the brightness of your space at any given time of the day. As such, your design should first maximise the amount of natural light in your room. If this is currently poor, then ensure your renovation design expands on this element, through the addition of windows and/or skylights.
Upcycled pendant lights are also a signature of country bathrooms, however they are not always practical as the sole lighting source at night, so depending on your requirements, downlights and/or task lighting (above the mirrors) may need to be subtly added in.
+ fixtures and fittings
Hard worn surfaces such as aged timber and brass set the foundation for the effortless timelessness that defines country decorating. For this reason, look at pre-loved fixtures and fittings that you can upcycle to call your own, or be inspired by their designs when making your selection. .
At MW Homes, the renovation experts, we're dedicated to creating the perfect space for your lifestyle. If you're thinking about renovating a bathroom, kitchen, laundry or a complete home renovation anywhere in Melbourne, we'd love to help you. Contact us today and let us turn your dream into a reality so we can discuss your country decorating and design preferences with you, in addition to providing some new ideas based on our extensive renovating experience. We'll then work together to finalise and create the perfect country bathroom renovation for your lifestyle.
Email: [email protected]
Office :  Suite 510, 737 Burwood Road
Hawthorn East 3123
(By Appointment)
Mail: PO BOX 449, Canterbury, VIC 3126
AWARD WINNING RENOVATIONS