Bigger isn't always better, but when you have a small bathroom to play with it's hard to know how to get the most of the space without feeling like you're playing a game of Tetris.
Now while you may already have your eye on a particular design for your bathroom renovation, in addition to knowing the room dimensions it's important to also be aware of any weight restrictions that may apply, before finalising your design.
So, to assist you in creating the perfect layout for your lifestyle, we'll take you through the seven key design elements for small bathroom renovations:
+ colour
+ lighting
+ vanity
+ shower/bath
+ toilet
+ long lines
+ mirror
+ colour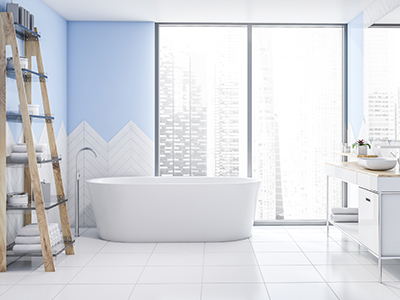 Light and bright is the golden rule when it comes to small bathrooms. While you can never go wrong with a white colour palette, you can easily inject additional warmth through soft pastels and neutrals. Any dark colours you have your heart set on can still be integrated into your space as a feature, such as a black fixtures and fittings.
However, it's important to remember that the more dark elements you add in, the more enclosed your bathroom will feel.
+ lighting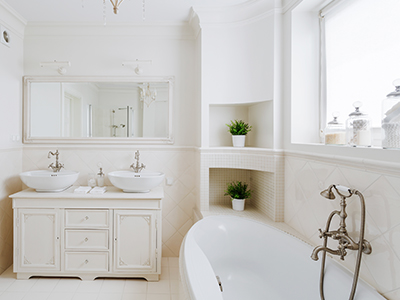 Achieving an abundance of natural light is key when trying to create a sense of space. Assess the current level of natural light at different times throughout the day and then establish whether you need to maximise this through the additional of skylight/s and/or window/s.
+ vanity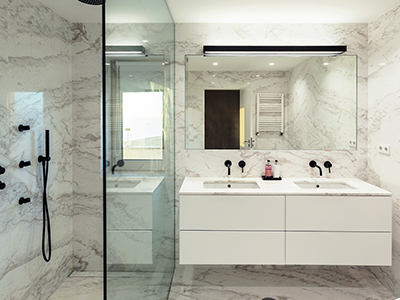 Wall mounted vanities are the perfect solution for small bathrooms, as they provide the illusion of space without having to compromise on style or practicality.
+ shower/bath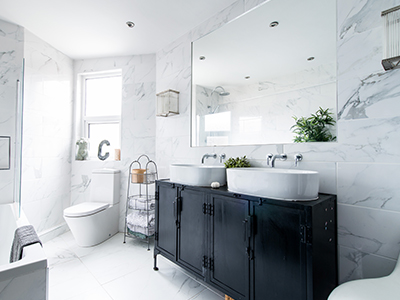 A shower/bath combination teamed with a fixed waterfall showerhead and frameless screen bring the best of both worlds into small spaces.
+ toilet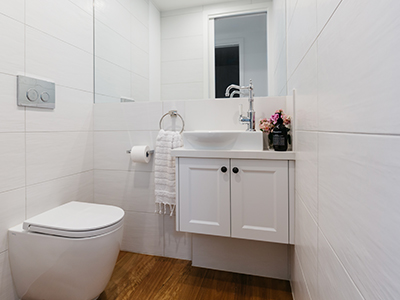 Complementing the wall mounted vanity, concealed toilets have their cistern hidden in the wall, providing a minimalistic and practical design solution for small bathrooms.
+ long lines
From niches to large format tiles, creating long luscious lines in your bathroom design will enhance the sense of space.
+ mirror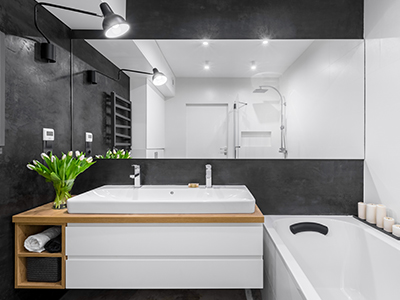 When it comes to selecting a mirror for a small bathroom, this is where bigger truly is better. The larger the mirror, the more it will help make the space appear larger.
At MW Homes,the renovation experts, our team will discuss your bathroom design and layout preferences with you, in addition to providing some new ideas based on our extensive experience. We'll then work together to finalise and create the perfect bathroom for your lifestyle.
Find out more about our quality bathroom renovations here.
At MW Homes, we're dedicated to creating the perfect space for your lifestyle. If you're thinking about
renovating a bathroom
, kitchen, laundry or a
complete home renovation
anywhere in Melbourne, we'd love to help you.
Contact us today
and let us turn your dream into a reality.
For more information on the six key bathroom renovating elements: colour, bath, shower, vanity, light, fixtures and fittings, read our Bathroom Renovating 101 Guide.
For inspiration and ideas take a look at our Bathroom Renovation Gallery.
Email: [email protected]
Office :  Suite 510, 737 Burwood Road
Hawthorn East 3123
(By Appointment)
Mail: PO BOX 449, Canterbury, VIC 3126
AWARD WINNING RENOVATIONS